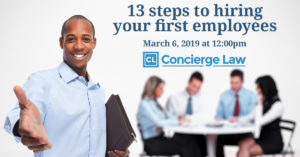 Deciding to hire your first employees can be overwhelming. Not only do you want to ensure that you are hiring the right people to help grow your company, but you also need to consider the new legal rules and regulations that now apply to you as an employer.
Join us for our webinar, "13 Steps to Hiring Your First Employees," on March 6th, 2019 at 12:00pm. Our CEO, Brett Silverman, will guide you through the tax forms, government registrations and insurance requirements that you need to prepare as a first-time employer. He will provide you with a checklist of items that you should have in place including an employee handbook, IRS forms, and required notices on worker rights.
Register today so that you are prepared for your new employees' first day.